Fiction and nonfiction by Fletcher Kovich
Thinking Inside the box
A short story by Fletcher Kovich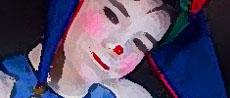 I was walking along Branbrook Street, thinking about meeting Paul later that evening. Paul was my imaginary friend. Paul was all I had in life, at that moment. I decided to wear my blue check shirt. I ironed it specially yesterday evening. Yes, I would wear that shirt; it was my favourite. I decided that Paul would phone me at ten-thirty to arrange to meet me. It was then three-thirty in the afternoon; I still had plenty of time to get ready. Anyway, there I was, walking along Branbrook Street, thinking about Paul, my only friend, when a young boy approached me. I say he was young; he must have been fourteen or fifteen—something like that; I really can't tell people's ages these days, and people of that age seem to me like a different species; anyone below the age of about twenty-two seems like one of those aliens who inhabit this world along with the rest of us. For I am one of "you", I would imagine—if you are one of "us". But if you are one of those "young" alien species, then you are not one of "us", but you will not know this yet; you will find it out at some later stage of your life.
So, this young boy approached me, handed me a black cardboard box, looked me in the eye and told me, "Don't, whatever you do, look in there, mister," and he walked on, leaving me standing there holding his box. The box did not seem heavy; in fact it felt light, almost as though it were empty. I looked over my shoulder and the boy was now out of sight. I resisted shaking the box, for I had this ridiculous notion that if I did, it might explode. Instead, I broke out into a sweat. Can you imagine it?—I started sweating, a grown man; well, grown as much as I ever would; in fact, for many years now, I've suspected I was actually shrinking.
There was a garden wall beside me. It occurred to me some people might simply put the box on the garden wall and walk on. And some people might simply think, "What a cheek, what a waste of my energy, clutching this box and carrying it around; I'm damned if I'll do this," and drop it to the pavement and walk on. Yes, we are all different. What a daft expression that is, because, of course, we are not all different. I have often thought just how similar to one another most of us are. Here I go again with this "us". There was "us" and "them", the "them" being that other, alien species who go around, wearing obscenely glowing skin and handing black boxes to people and telling them not to look inside. Anyway, I am not like that. Once the box was placed in my hand, I automatically assumed it was now my duty to look after it.
When I got home, I placed it on the coffee table in my living room, sat down and looked at it. "If it was going to explode," I thought, "it would have done it by now, so at least I'm spared that ordeal." I felt relieved to still have all my limbs intact. I made a cup of tea. And strangely, while I was making it, it did not occur to me that I would at least have something new to tell Paul. It did not occur to me to start thinking up the sentences I would use to describe to him the boy, the box, and this great burden of duty that had been presented to me. It did not occur to me I would be telling Paul about this, because, I suppose, I knew full well that Paul, being imaginary, only existed here inside my own head and would therefore already know about this box. He existed in my own mind, so, he would already know my every thought. This, of course, did not prevent me from discussing my day with him, from planning the trips we would take together, from recalling how we had nudged each other in the street and shared a joke about some girl whose clothes could hardly contain her—from recalling how this had happened, or would happen; it was much the same, really.
I sat down with my tea, watched the box for a few minutes, then picked up a car maintenance manual to read. I bought it a few weeks before and was methodically working my way through it. I did not have a car, and never have had one. The book was cheap. I bought it in a charity shop. What impressed me was that on one page, there were four oily finger prints. This somehow brought the book to life. I could imagine the car, its bonnet yawning, its owner bent into the abyss, clutching some oily, metallic part, scratching his head and turning the pages.
It was now ten-forty-five and Paul had still not phoned. I closed the book and put it aside. "He will not phone now," I told myself; "he has forgotten." I felt a lump in my throat. I was now all alone with that box. The box, it seemed, was all I had in life. And it seemed like an inadequate distraction. You should have a greater distraction, to distract you from "this", the emptiness that was left when all you had to do was to count the minutes and hours of each day. I looked at my watch. It was now ten minutes past eleven. Soon, I would go to bed. I still had the distraction of sleep. Sleep was perhaps my only comfort in life. But I would not be able to leave that box there on my coffee table. If it was left unattended, it might do anything; anything could happen. I would never be able to sleep. I would lie there, thinking about the box and what it might be doing. I might imagine its lid lifting and some tentacled creature emerging from it, or some swarm of insects expanding from within it and displacing the lid as they spilled out into my living room in the manner of a curious gas picking and poking at every surface and object, testing them, acknowledging them.
I leant forward and began slowly lifting the lid. Again, I was sweating, and my hand seemed to be trembling. I expected some terrible thing to be released, some calamity to befall the whole street, the whole town; I was opening the box and I was not supposed to. This, for the moment, perhaps, was my distraction. I moved the lid aside, placed it down on the table, peered into the box and found it was empty.
28 January 2009
See also
---